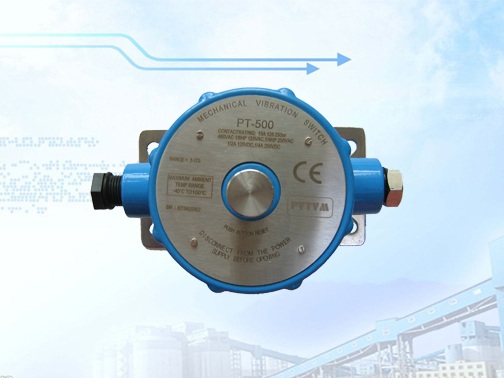 The PT 500 is an economical solution to provide basic vibration protection for your rotating or reciprocating machines. The PT 500 uses an inertia sensitive mechanism which actuates internal micro-switch contacts when the vibration level exceeds the adjustable set point. The PT 500 start-up delay feature prevents the switch from activating during the higher vibration levels present during the start-up of the machine so that the set point may be adjusted closer to the vibration levels present during normal operation or running speed of the machine.
Product Detail:
Wide operating temperature range of -40°C – 100°C (-40°F – 212°F)
All industry environmental ratings
Optional NEMA(E-coat),IP65 environmental rating
Hazardous area agency approvals CSA, ATEX, CE
Universal mounting
Local and remote reset
Start up delay
SPDT, (2) SPDT and gold plated contact options
Function: Armature mechanism trips on
high vibration and operates snap action switch.
Vibration Range: See How to Select "C"
Frequency Range: 0 to 3600 rpm
Set Point Adjust: 0 to 100% of range. Internal set point adjustment.
Local Reset: For field local reset of the switch
Remote reset with Start-up Delay: Applying reset coil voltage at start up holds mechanism from tripping delay about 3 seconds, after which the switch is automatically activated.
Reset Coil Power Supply:
95 - 250VAC@100mA, 50 - 60Hz or
20 - 30VDC @ 200mA
Temperature Limit: -40 oC to +100 oC
Enclosure: Casted Aluminum
Environmental Rating: IP65
Switch Contact(s) Rating:
15A, 125VAC, 250VAC, 480VAC; 1/8 HP 125VAC
1/4 HP 250VAC; 1/2A, 125VDC; 1/4A, 250VDC
Gold plated contact: 0.1A 125VAC; 0.1A 30VDC