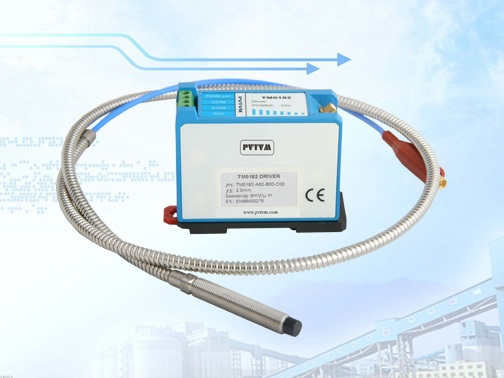 The 11mm probe has up to 4mm (160mil) linear range. The TM0110 probe is recommended when a longer linear range is required. The TM0110 proximity probe system is designed to meet API 670 industrial standard. The system consists of a probe, extension cable and driver.
Product detail:
The TM0110 probe is an 11mm probe designed for harsh environments. The rugged cable jacket helps prevent the probe cable from breaking and tearing, as well as, being highly resistive to corrosive environments. The TM0110 proximity probe and extension cable are equipped with a standard protective rubber boot, which covers the connectors and prevents oil and dirt penetration.
The standard cable lengths for the TM0110 are 0.5m and 1.0m. Additional lengths of 5.0m and 9.0m are available with an integrated probe and extension cable connected together equaling one part.
The probe may be selected in either English or metric units, as well as, reverse mounting options.
Extension Cable – TM0181
Extension cable design results in better system performance and a longer life cycle.
One may select various extension cable lengths based on the probe cable length. The total length of the probe and the extension cable need to be 5m or 9m.
The connector on the extension cable is also an API 670 standard, allowing compatibility with other manufacturers' proximity probe systems.
Driver – TM0182
The TM0182 driver is used for the TM0110 proximity probe systems. The isolation from ground for the driver is a standard feature for drivers. The total length of cable between the probe and the driver should be 5m or 9m. The distance between the driver and the monitor can be up to 300m (1,000 ft). The three conductor shielded cables from the probe driver are used to connect to a vibration monitor, such as, PT2060 and DM vibration monitor.