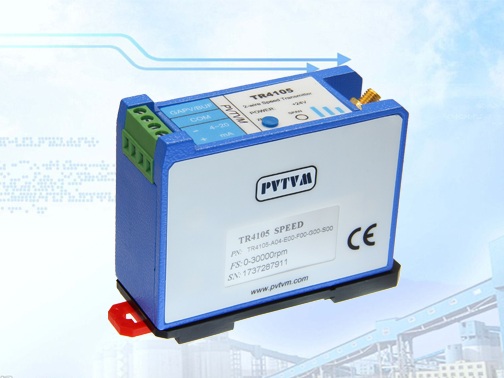 2-wire loop powered transmitter for Speed and Phase Reference
Does not require proximity probe driver
4-20mA output
Buffered output/ GAP
Compatible with other manufacturers' proximity probes (5mm, 8mm and 11mm)
Powered by DCS/PLC directly (20-30VDC)
Product Detail:
The TR4105 is a cost-effective solution for monitoring the speed on your balance of plant machines. The TR4105 combines the proximity probe driver and the signal conditioning circuit into one package. It works with a proximity probe and extension cable as a system.
Loop powered transmitter
Does not require proximity probe driver
Buffered output/ GAP
Compatible with other manufacturers' proximity probes (5mm, 8mm )
Aluminum cast case (copper free) with epoxy potting for better environmental protection and reliability
Same size as a proximity probe driver
Electrical
DCS or PLC Power Supply:
16-30VDC
Speed Response:
0 - 50,000 pulse per minute
Overall Vibration:
4-20mA
Connection:
Special 95Ω coaxial cable with connector.
Buffered Output/ GAP:
Raw speed and phase reference signal
Nominal: 2-18VDC
Impedance: 20 kΩ
Maximum cable distance: 3.0m (10ft)
Sensitivity: 8.0mV/um (200mV/mil) nominal
Electrical specifications continued
Maximum Load:
50×(Vs-16)
Where Vs is the system power supply
Physical
Height: 75mm (2.95")
Weight: 0.5 kg (1.0 lb)
Environmental
Temperature:
Operation: -40℃ to +70℃
Storage: -40℃ to +100℃
Humidity: 90% non-condensing