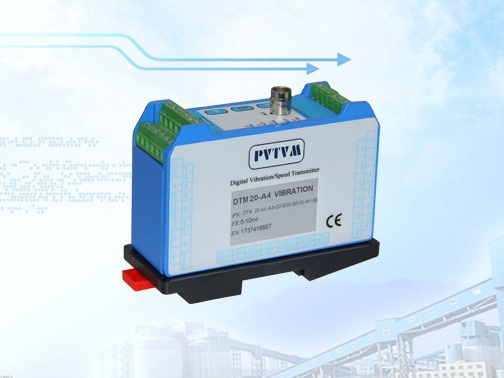 The DTM20-A4 is designed for monitoring reciprocating compressors & engines. It is a multiple parameter monitor with both impact monitoring and acceleration monitoring. Alarm can be the combination of these two parameters. You can conveniently decide the alarm level of each of the monitored parameters and setup accordingly. In addition to analog transmission, the monitor also supplies a digital output, dual alarms, and a condition monitoring. Thus greatly enhanced the analysis and monitoring capabilities of the system. The looseness monitor conforms to ISO10816-6.
Product Detail
Precision Looseness Monitor
Programmable impact trigger level and time base. Impact is set in acceleration (g's) with DTM-Config software.
Highly repeatable with quantitative measurement
Multiple parameters monitoring
Not only monitoring looseness impact but also overall acceleration
Both parameters can be monitored and alarmed
Multiple outputs
Analog transmission via dual 4-20mA
Digital Modbus RTU output
Dual programmable alarms
Waveform and spectrum (with software)
More accurate impact response
Industrial, light weight accelerometer (100mv/g -pk
constant current) makes the measurement more responsive to high frequency and repeatable
Live waveform helps trigger level setting
Within the configuration process, the live waveform can be analyzed to decide the looseness trigger level thus minimize the "estimated" uncertainty
Designed with reliability
Redundant power supplies
Redundant 4-20mA outputs
Dual dry-contact relay outputs
Trip multiply and Bypass
Galvanic/optical isolation for solid signal processing
Power input isolation
Sensor signal conditioning isolation
Transmission 4-20mA output isolation
Relay output isolation
Digital output isolation with DTM96
Fully field programmable by CFG software
DTM20-CFG can easily change any configuration of the monitor.
Calibration of the system is available with CFG software