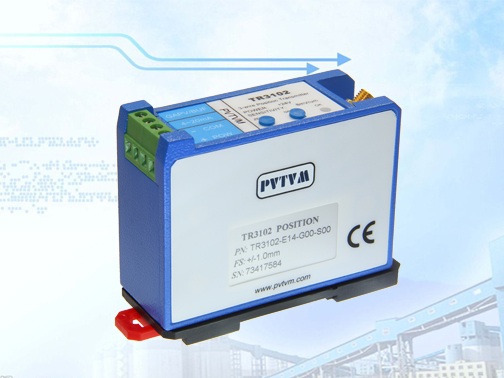 3-Wire Transmitter for Axial Position/ Phase Reference
Does not require proximity probe driver
4-20mA output, source, will transmit signal up to 300 meter(1000ft)
Buffered output/ GAP
Compatible with other manufacturers' proximity probes (5mm, 8mm and 11mm)
Powered Supply: 20-30VDC
The TR3102 is a cost-effective solution for monitoring the axial position or phase reference on balance of plant machines. The TR3102 combines the proximity probe driver and the signal conditioning circuit into one package. It works with the proximity probe and extension cable as a system.
Does not require proximity probe driver
Buffered output/GAP will transmit 300 meters (1,000 feet)
Compatible with other manufacturers' proximity probes (5mm, 8mm and 11mm)
Aluminum cast case (copper free) with epoxy potting for better environmental protection and reliability
Same size as a proximity probe driver
Electrical
DCS or PLC Power Supply:
20-30VDC
Sensor Interface:
Connection:
Special 95Ω coaxial cable with connector
Probe:
5 meter or 9 meter proximity probe and extension cable
works with 5mm, 8mm, and 11mm probes
Proximity probe includes: TM0180, TM0105, TM0110, 3300, 7200, 990 series.
Sensor Linear Range (reference with AISI 4140 steel):
5mm, 8mm probe: 2.0 mm (80mil)
Approximately 0.25mm (10mil) to 2.25mm (90mil)
11mm probe: 4.0mm (160mil)
Approximately 0.4mm (15mil) to 4.4mm (175mil)
4-20mA Transmission:
2-wire, source
Buffered Output (GAP V):
Raw position signal
Nominal 2-18VDC
Impedance: 1,000Ω
Maximum cable distance: 300m (1,000ft)
Sensitivity: 8.0mV/um (200mV/mil) nominal
Frequency response: 0 - 10 KHz
Maximum Load:
500Ω
System Self-test:
System OK: output 4-20mA
System Not OK: output < 3.0mA
Physical
Height: 75mm (2.95")
Weight: 1.0kg (2.0 lbs)
Environmental
Temperature:
Operation: -40℃ to +70℃
Storage: -40℃ to +100℃
Humidity:
90% non-condensing