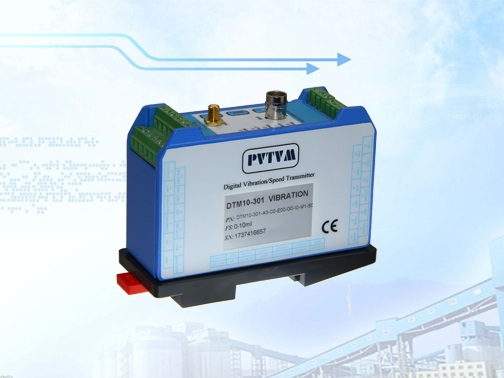 Shaft Vibration Monitor: DTM10-201, DTM10-301 build-in driver
Thrust Position Monitor: DTM10-202, DTM10-302 build-in driver
Speed Monitor: DTM10-501, DTM10-502 build-in driver
DTM10 Fully Configurable via Software
üVibration Monitor Module
üThrust Position Monitor Module
üSpeed Monitor Module
üPhase Reference Monitor module
Product Detail
The DTM10 distributed vibration transmitter-monitor is ideal for monitoring machine vibration using proximity probes and a Modbus interface to a PLC or DCS system. The DTM also contains redundant power supplies and redundant 4-20mA transmissions. Using PVTVM's unique strategy, the DTM can interface with almost any proximity probe system without hardware changes.
Specifications
Electrical
Power Supply:
22-30VDC, 150mA.
Galvanic isolation
Frequency Response (-3dB):
Nominal frequency: 4 ~ 3.0KHz
Low frequency: 0.5 ~ 100Hz
Proximity probe Interface:
Sensitivity:
5mm and 8mm probe: 8 mV/um (200 mv/mil)
11mm probe: 4 mv/um (100 mv/mil)
25mm probe: 2mv/um (50 mv/mil)
Buffered Output:
Original, un-filtered signal
Impedance: 150Ω
Maximum cable distance: 300m (1000ft)
Sensitivity: same as the sensor
Local BNC connection and terminal block
S0 and S1 options: Source, Non isolated
S2 and S3 options:
Passive, Galvanic isolation, 1000VDC
Power supply range: 22-30VDC
4-20mA Output:
Dual 4-20mA, sourced (loop power not required)
Maximum load resistance: 380Ω
Alarm Setup:
0 ~ 100% FS.
Accuracy: ±0.1%.
Delay: 1~60s, according to 1 second increase, default is 3s. Speed monitor without delay.
Relays:
Seal: Epoxy
Capacity: 0.2A/240VAC, 0.4A/110VAC or
2.0A/24VDC, resistive load
Relay type: SPTD
Isolation: 1000VDC
LED Machine Condition Indicator:
OK: System OK indication
ALT: Vibration over ALERT level
DNG: Vibration over DANGER level
BYP: System in BYPASS
TRX: Digital Transmission Active
RESET/BYPASS
Trip Multiply:
Double Multiply or Triple Multiply set in DTM-CFG
Short Trip/Multi terminal to COM terminal
System alarm level will increase by a factor of 2 or 3 (DTM10-201 / 301 only)
Modbus:
RS485 Modbus RTU
Not isolated (use DTM96 for isolation)
Local push button programming:
Alert and danger set-point, ZERO calibration
Software programming (DTM-CFG):
Digital condition monitoring (optional)
Physical
Dimension:
Height: 75mm (2.95″)
see figure below
Weight: 0.9lb (0.4kg)
Environmental
Temperature:
Operation: -40℃ ~ +85℃
Storage: -50℃ ~ +100 ℃
Humidity: 90% non-condensing
Case: Aluminum